Tuesday, March 22, 2011
Obama's Speech Cadences Explained
This is his inspiration:



Tuesday, June 02, 2009
Presented for Your Approval
It certainly has mine.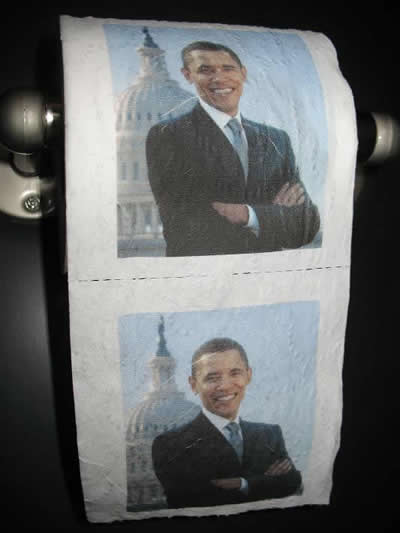 Yes, it's Barack Obama toilet paper.
While I'm sure there will be those who are offended by the idea, I think it's entirely appropriate to turn his image into toilet paper, especially since he's doing the same thing to the American dollar.
Tuesday, November 05, 2002
Franchise follies
A collection of stories about glitches in the electoral process:
From
Drudge
:
Systematic problem statewide in Georgia confirmed: When placing vote, and touching the screen for a Republican candidate, the box is incorrectly checked for the Democrat candidate. Another similar situation is occurring when the review screen comes up and previously marked Republican votes are showing as Democrat votes... is happening in lots of different races, to both parties. Officials fixing problems as they arise when made aware of them... Developing...
and
this
:
FLORIDA TALKSHOW CALLERS CLAIM MACHINES 'BROKEN', VOTED FOR MCBRIDE, MARKED IT AS BUSH

"I voted for McBride, but the machine counted it as Bush. It did this three times. The polling worker finally said, 'We have to reprogram this machine. Another person was having the same trouble while I was there.'"

So claimed a caller to Southern Florida's WQAM-AM and the highly-rated radio talkmatch, NEIL ROGERS SHOW.

"I pushed the screen for McBride and it marked Bush. They called over a technician, he reset it," claimed a second caller.

"I'll tell you right now, this election is fixed!" roared Rogers, who has been in the Miami-Ft. Lauderdale market for more than 25 years. "Based on a few early calls, it is going to be a wild, wild time."

"You have not seen anything yet," warned Rogers. "It's not even 10:30 in the morning. This is going to be one of the great disasters of all-time."

From the
Washington Post
:
As residents of Maryland, Virginia and the District cast their votes in several closely watched races, technical problems plagued some precincts in Montgomery County, Md.

Montgomery residents using the new electronic touch-screen voting machines at all 30 precincts in legislative District 19 saw the word "Democratic" in the header of the ballots, according to Sara Harris, deputy director of the Montgomery County Board of Elections.
....
Another elections official, Marjorie Roher, said the step was taken "to preserve the integrity of the votes and to inform voters about what happened."

The notices state: "The ballot is correct and your vote will count. This ballot contains all candidates and questions. However, the heading on the instruction page contains the word "Democratic." This word should not have appeared on the instruction page and this line should have been blank."

from
WOKV
:
Among those precincts affected was the Mary Singleton Senior Center, the precinct that had the most trouble on Primary Day. Corrine Brown, congressional candidate, was outraged at the problems at the polls and told WOKV NEWS that she was aware of a similar problem at precinct 10J. Both of those polls are in heavily African-American precincts, and she wondered why those precints seem to have the most problems.

Reports from around the city suggest the problem is more widespread than just those precincts, we received similar reports from at least four other polling sites, including one in Clay county, though we understand all machines are now online and processing ballots.

From
Boston.com
:
Republican Mitt Romney's campaign filed a complaint several hours after polls opened Tuesday, saying union workers were improperly influencing voters in the city's Jamaica Plain section.

Romney campaign adviser Rob Gray said officials with the Service Employees International Union were seen entering voting booths with some voters in Ward 11, Precinct 4 of Jamaica Plain.

from
Fox
:




Three central Florida counties reported problems with optical scanners. Machines malfunctioned at a South Miami precinct. An electrician was called to a Broward County precinct running on battery power, where voters were reportedly putting their ballots in a box to be hand-counted.

Some who showed up to vote drove off before a precinct in the Orlando suburb of Winter Park, Fla., finally opened 20 minutes late.

Once the poll opened, some voters said they had trouble feeding the optical scan ballots through the machines -- and some English-speaking voters said they were given Spanish-language ballots.

In Cherry Hill, N.J., a computer glitch caused voting machines to malfunction in about three-quarters of the township's 46 voting districts. Some voters had to use paper ballots while repairs got under way

And the beat goes on....
You know, the dudes at the Democratic Underground want us to go pack to paper and pencil ballots, as if voter error and fraud were invented with the voting machine. By that logic, the way to reduce traffic fatalities is to go back to the horse and buggy.