Friday, January 25, 2008
One day old and sleeping like a baby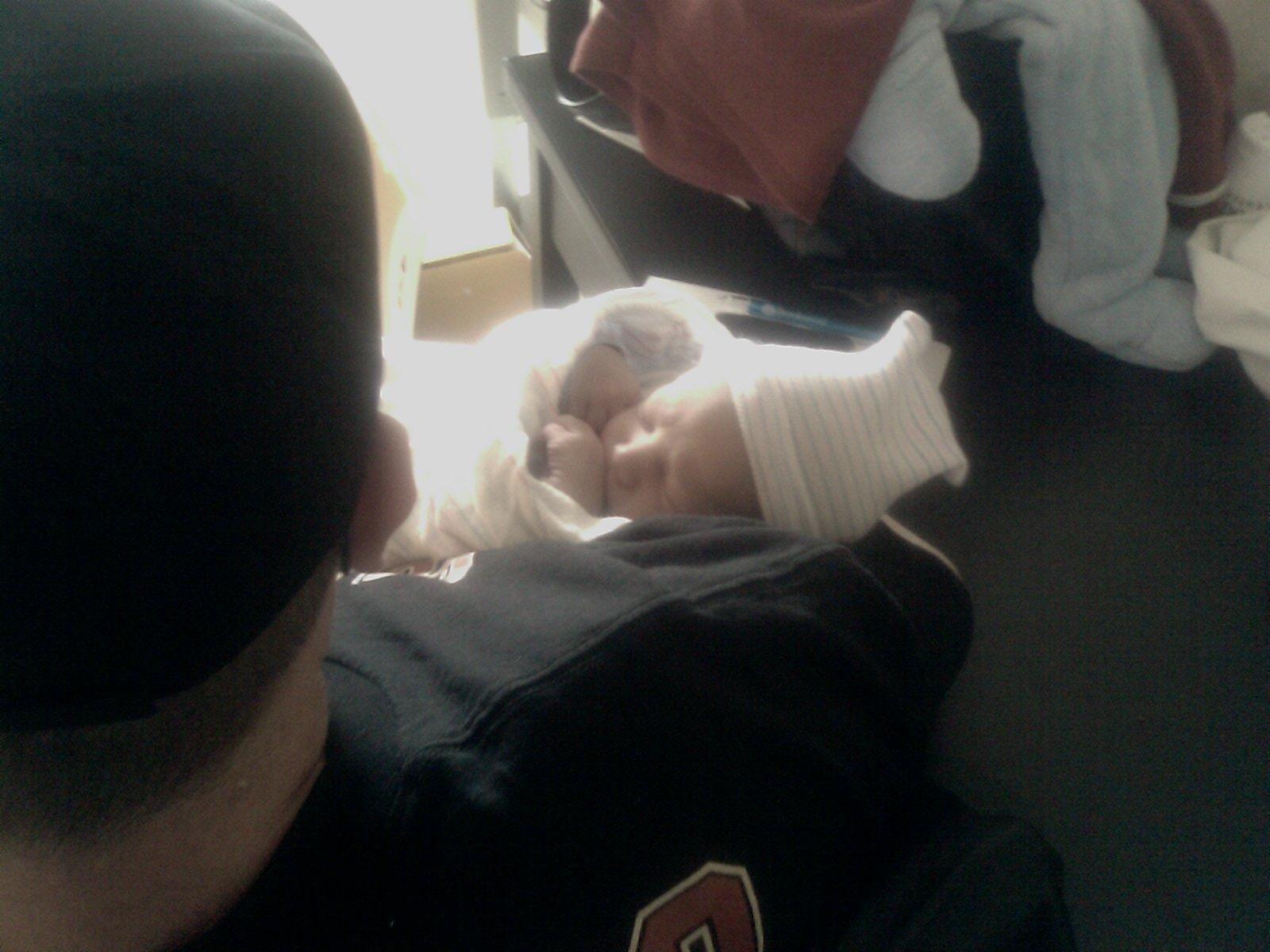 Thursday, January 24, 2008
Here's Joaquin!
In full 1.3 megapixel glory, as captured by my camera phone. Better pictures to follow.
Joaquin Gustavo Jiminez
Born 1-24 at 1:25PM CST
7lbs 9oz
21" long.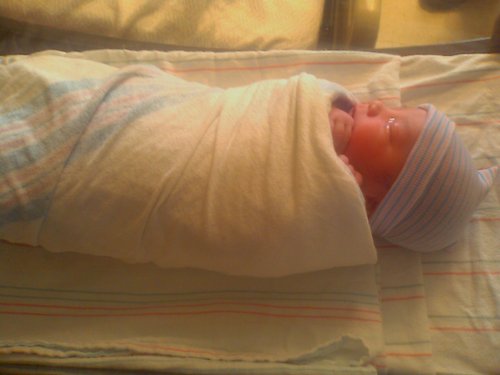 More shots after the fold, but don't expect to see me in them. I'm sick as a dog, and staying far away from baby and mother until I'm not sick as a dog anymore.
Maybe till I'm just sick as a hamster or something.
Friday, December 22, 2006
A Milestone of Sorts
I changed my first diaper as a grandpappy last night.

No, not mine. Mason's.


Tuesday, December 19, 2006
He's Here
Mason Ethan Hailey was born today at 4:40PM at St. Mary's Women's Pavilion. He weighs 7 lbs, 5 oz, and is 19.5 inches long.
Mother and son are resting comfortably, and will be able to come home tomorrow.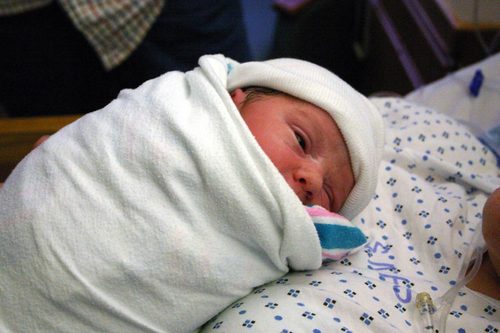 More pictures after the jump:
I'm Gonna be a Grandpappy Today!
Erinne is headed to the hospital for a 5:30AM appointment and her doctor is going to induce labor due to Mason's size, and Erinne's elevated blood pressure, so in just a few short hours, I'll be a Grandpappy!


Tuesday, August 01, 2006
A Blanket and a Bedchair
Just over 17 years ago, I spent my first and only night in the hospital with one of my children.

Until last night.

Yesterday afternoon, my daughter started complaining of nausea, stomach cramps, and back pain. The symptoms got worse as the day went on, and she started throwing up. We were going to take her in to see the doctor in the morning, but when we called to set up the appointment, his answering service called him, and he told us to take her to the hospital.

So, last night around 9:30, we walked in to St Mary's Women's Pavilion. Her doctor had already ordered the tests he wanted to run, so once we got there, things happened fairly quickly.

The nausea and vomiting had caused her to become seriously dehydrated, which complicated the underlying problem, either a kidney infection, or a small stone. At first, we were only going to be there a couple of hours while they rehydrated her and gave her some medicine for the nausea, but once the lab work came back, her doctor decided to admit her for 23 hours (Ain't insurance great! The 23 hour limit is to differentiate between in patient and out patient treatments.) to try and resolve the kidney issues.

So, around 130AM, they wheeled her into a small private room, plugged tubes and monitors all about her person, poking holes in places God never intended for there to be holes, and then told her to try and get some sleep. It took a couple of hours and 4 trips to the bathroom, but eventually the meds kicked in and she went to sleep.

I got to sleep (If you define sleep as tossing and turning on a chair that folded out into a worthy replica of a Medieval torture rack) for roughly 2 hours before the day nurse came in to brightly assure us that we could continue to sleep if we'd like.

Thanks so much.

By 830, Erinne was hungry, which is always a good sin, and her doctor told her that as long as the fever broke, the pain was gone and she could handle solid food, she could go home this afternoon.

It did, it was, she could, and we did.

Now I'm going to get some sleep.

PS: I left out the part of the story about my blanket.

So did the nurse.


Wednesday, May 24, 2006
As Promised….
Here's Peanut!



Books on Teen Pregnancy
In a comment below, I half jokingly said I was going to have to write a book on helping a teenage daughter with her pregnancy. I've just done an Amazon search, and now I'm not so sure I was joking. Almost every book I previewed talked about teen pregnancy as something that must be "recovered from," instead of celebrated. It seems like no matter how hard they try, they can't get past the circumstances of the pregnanacy, and that colors every aspect of the advice they have to give.

They're not all like that; after searching through about 50 titles, I found 5 or 6 worth a closer look. But man, most of them sound like grief counseling for the mother is the first order of the day, and that's just wrong. Understanding that your life has just changed forever is one thing; grieving for it is another, and something that I think is entirely unnecessary.

I think we look at it from an adult perspective; our lives have become relatively stable and we see the magnitude of pregnancy relative to that stability. We forget that kids, especially teenagers, have been living with rampant instability for several years as they go through adolescence; pregnancy and motherhood is just one more in a long line of changes they've weathered.

Isn't it possible that most of the trauma we normally associate with a teen pregnancy springs not from the pregnancy, but from our reaction to it? What happens when we celebrate the pregnancy instead of recover from it? What happens when we allow the circumstances to fall away and let the creation of a new life take center stage?

We allow the pregnancy to be what it should have been anyway, a positive step, albeit an accelerated one, into adulthood.


Tuesday, May 23, 2006
My First Craving Run.
My daugher had her first ultrasound today, and I'm holding in my hands three pictures of Peanut, AKA Maria, AKA Caius, all depending on who you ask. As soon as I can hook up the scanner to my laptop, I'll share them with you. By the way, I went on my first pregnancy induced craving run tonight. I was sent to fetch McDonald's French Fries and a vanilla milk shake.

It's better than the fried chicken livers and tin roof sundae ice cream I had to get for her mother.