Here are a few shots I took during Bonnaroo. They are all work safe.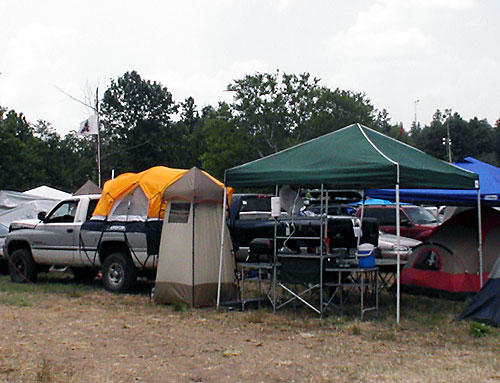 My little corner of Bonnaroo
Notice the truck tent, which really saved space and made my camping significantly more comfortable. The tall tent just to the right of my truck was my shower tent, equipped with a battery operated pump and a propane water heater. Hot showers are a wonderful thing. If I'd wanted to, I probably could have paid for my whole trip by selling showers to other campers.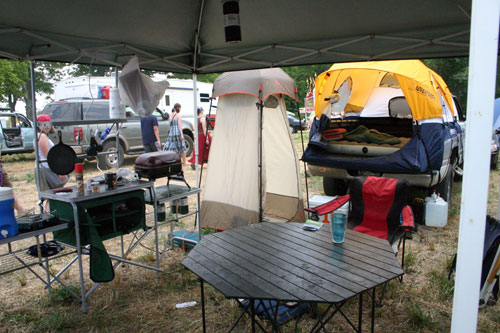 The interior view
I built this setup over the last 4 years that my brother and I have been going to Bristol for the races. I've pretty much finished it,except for a good sound system. Due to space considerations,I left the movie projector and screen at home.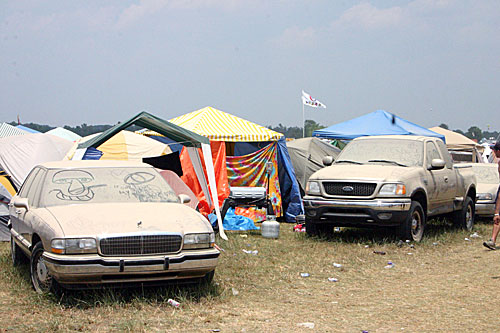 I could have been much worse off
These cars were clean just a day ago. The dust was everywhere. I saw lots of folks using bandannas to keep the dust from diluting the pot they were smoking.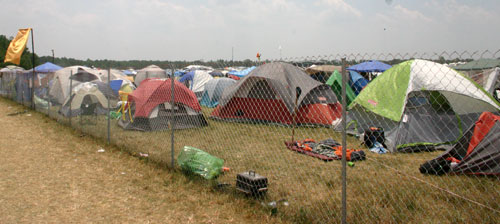 Music Festival or Refugee camp?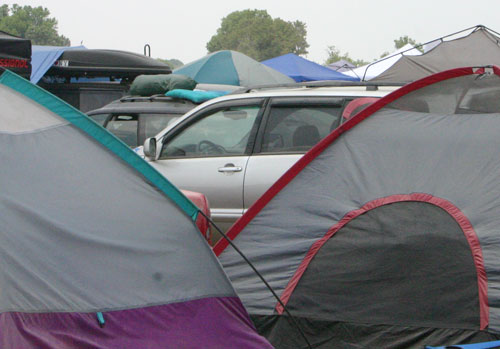 Packed in like a can of sardines
If you were on the inside of a row, you were going to be staying for the entire festival, whether you wanted to or not.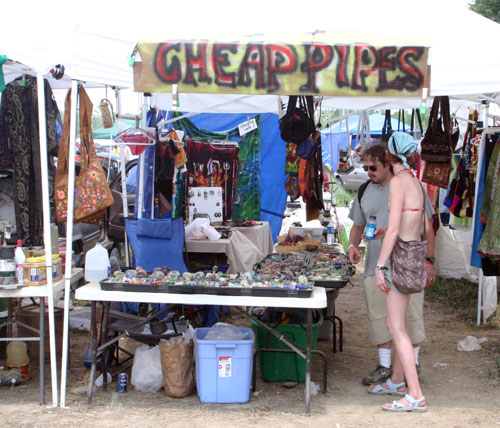 One of the many vendors selling...ummm...stuff
Quoting from the Bonnaroo Guide:
Illegal drugs are forbidden at the festival, and the festival safety/security staff will work with law enforcement officers to handle drug related violations in accordance with Tennessee Law.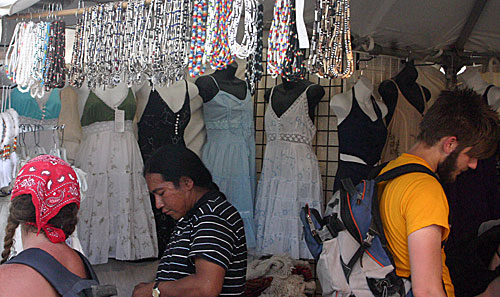 Native Americans selling overpriced beads to the white man. Can you get more ironic?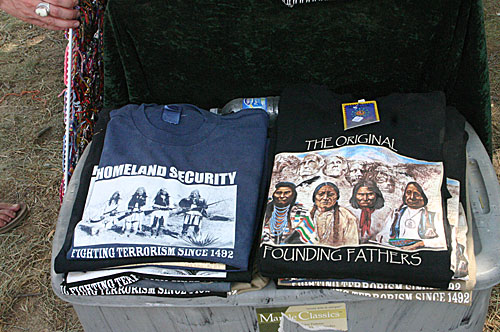 An object lesson in failure to achieve victory.
Yeah, ask
them
what happens when you fail to control immigration.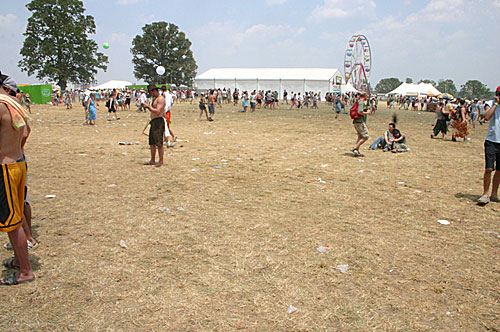 Centeroo field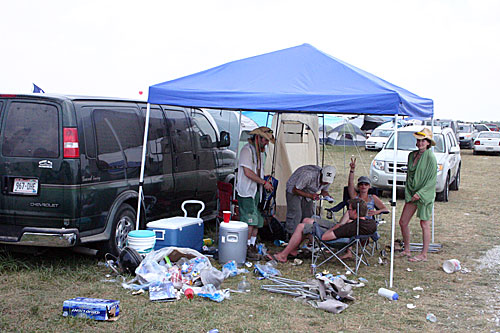 Green Camping Bonnaroo Style
Nothing green survives Bonnaroo. Well, except for the almighty dollar.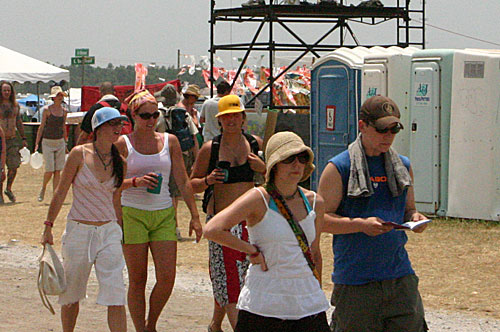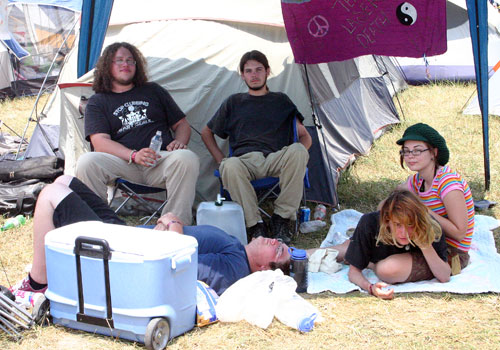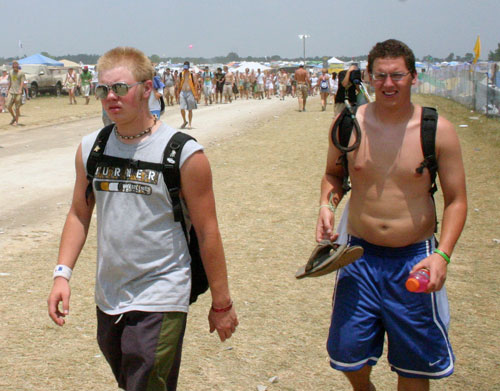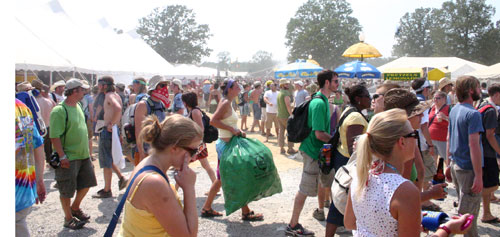 If everybody is having such a good time,why aren't they smiling?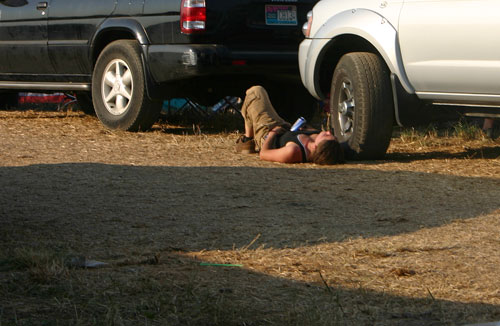 I'm having so much fun I'm just going to lie here in the middle of the hot, dusty road!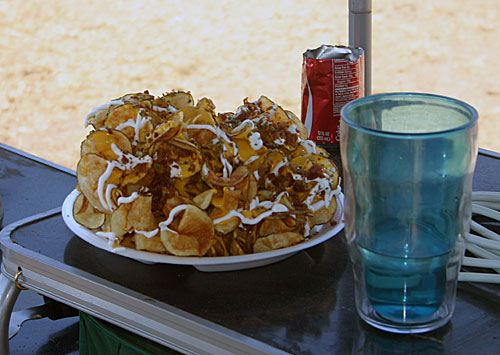 Ribbon fries
Obviously, Bonnaroo wasn't all bad. These ribbon fries were every bit as good as they looked.
And I got to meet Alexa Ray Joel and talk with her for a few minutes. For a young lady who has grown up in a spotlight with two famous parents, she is refreshingly candid, and just plain nice to be around.
She sings pretty well too!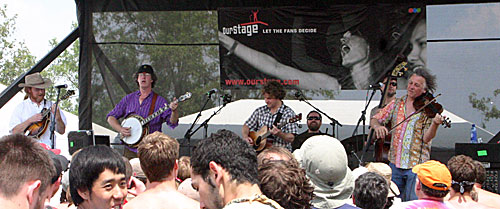 Railroad Earth
And if you could fight your way through all the obstacles, there was some mighty fine music to be had,including these guys,Railroad Earth, a newgrass jam band.